What makes a miracle? Our research into how to help service providers respond to their communities' needs
This blog introduces our upcoming research on how to help service providers respond to their communities' needs.
What inspires a doctor to act in the interests of her patients, enables a teacher to work in the interests of his pupils, or motivates a councillor to act in the interests of their community? And why would someone in one of these jobs ever act any other way?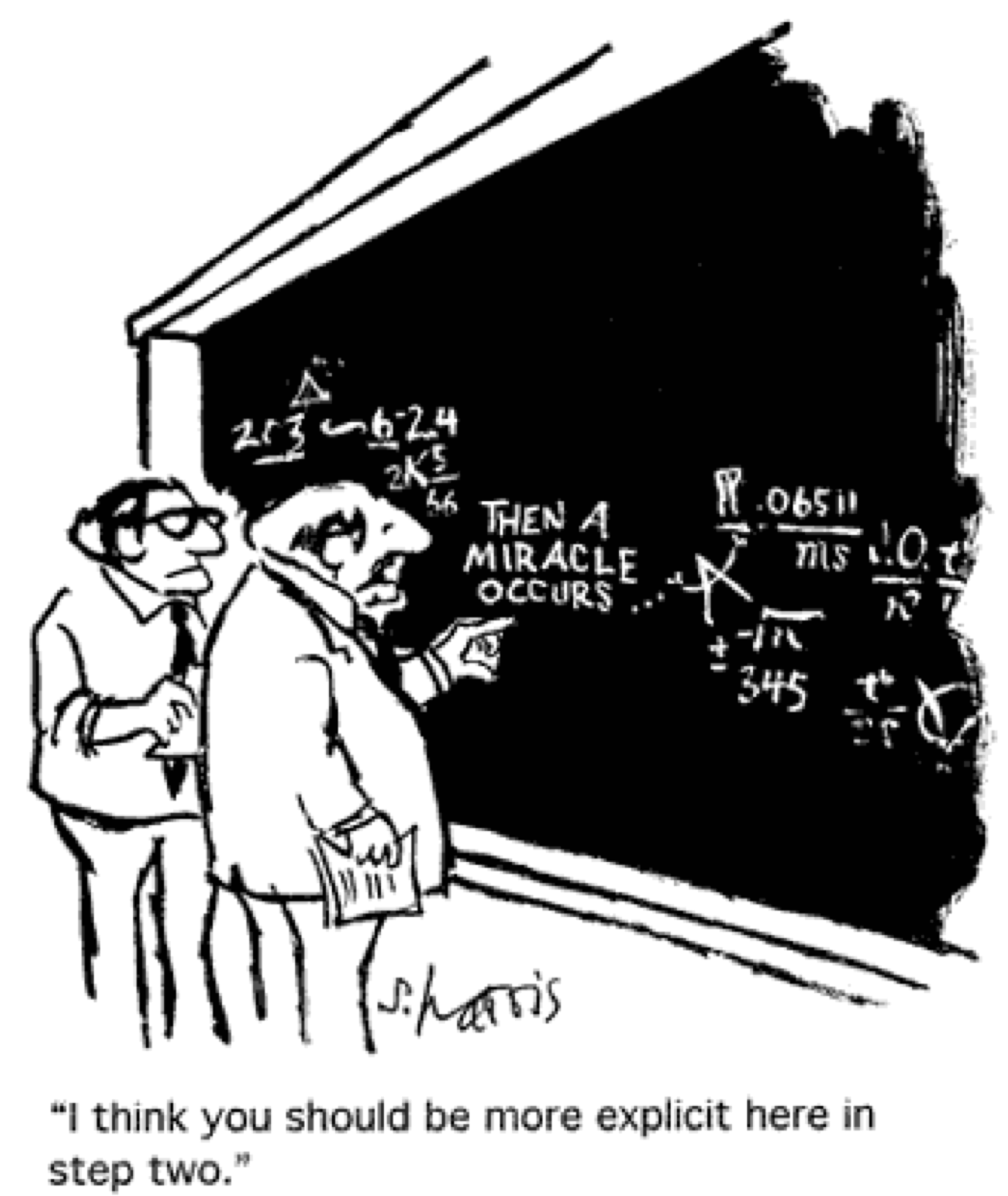 Image: Sidney Harris, American Scientist 1977
Sadly, we know that many people do not receive the entitlements they are due from the institutions they rely on. It's the very problem that Integrity Actions exists to solve, as described in our Theory of Change. We work with citizens – the service users, students, and taxpayers – who we support to report problems that they encounter; but if that was all we did, our programmes would resemble Sidney Harris's famous illustration above.
In our Theory of Change, one of the "miracles" we rely on is a virtuous circle of incentives and mutual trust.
But does this theory work? That's one of the big questions we asked ourselves when we revised our Theory of Change last year.
Improved trust among citizen monitors
We know of changes on the citizens' side of the cycle. We hear examples in our programmes of monitors who are initially sceptical of the response they expect to receive from duty bearers, but who are inspired by a positive reception to share more feedback and concerns. We also survey most of our monitors during the course of their engagement: the responses in the graph below were collected in Kenya from individuals in our VOICE 1 programme, firstly before they were trained as community monitors and then again one year later.

What makes duty bearers respond to citizen feedback?
On the side of the service providers, we have much less to go on. We know that many organisations do not have adequate laws or policies to ensure that they listen and respond to the citizens they serve. Where formal rules are in place, these can still be easily undermined if existing practices and social norms expect these to be broken. And even when institutions and professionals have the desire and the formalised incentives to deliver their promises, they frequently lack the time, capacity, or resources to track communities' satisfaction or to act on feedback.
This is why we've commissioned two pieces of research that will be publishing results in the next few months:
One focuses on the problems that citizens have raised through our platforms, and explores which cases get resolved and which do not. Are there factors – social, political, financial, environmental – that lead to more problems being fixed and, if so, how do they relate to each other and which combinations are the most important? Using Qualitative Comparative Analysis to examine the differing capabilities, opportunities, motivations and behaviours of those involved, this research seeks to generate findings that will strengthen our understanding of the "miracle".
The other looks beyond the boundaries of our programmes to hear from healthcare providers and educators about the challenges they face in providing inclusive services that respond to the needs of their communities. What institutional, individual and social conditions are the most important to enable or inspire such actors to work in the best interests of those who rely upon them, and what approaches have the most potential to create or strengthen these conditions? What value do the service providers themselves place on the kinds of accountability programmes that Integrity Action implements, and what more might they want to see?
Does citizen monitoring save public money?
Tackling these questions has been a priority for us over the past year, but they are not the only areas of our Theory of Change that we wish to explore further. Alongside SEND Ghana, INTRAC, and the Kwame Nkrumah University of Science & Technology, we are beginning a two-year journey to discover the value that citizen-centred accountability programmes can bring to service providers in northern Ghana by asking: "Does monitoring by citizens save public money?"
Our approach to collecting and sharing evidence
We have also developed a set of strategic questions to further unpick the miracles we rely upon – look out for these coming to the What we are learning section of our website soon, where they will be accompanied by our principles on how we ethically collect and communicate this evidence. Our ambition is that the findings will be of value for all groups who have an interest in increasing the quality, responsiveness, inclusivity or transparency of public services or projects.
The two research projects above are being conducted by Ecorys and blueTAP consult respectively, and both will be available on our website in the near future. If you're interested in hearing about them once they're published, or about any launch events we arrange, please get in touch at daniel.burwood@integrityaction.org. We are also keen to hear your thoughts on social media! Tweet us @Act4Integrity