Partner with us
Integrity Action never works alone; we always work in partnership. We are keen to initiate partnerships with organisations that share our ambition to ensure citizens have a prominent voice in how projects and services are delivered where they live.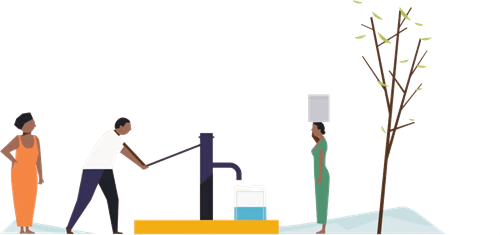 We believe that in partnering with other organisations, together we can empower citizens, improve projects and services, and strengthen relationships between citizens and duty bearers in different settings. We are keen to hear from potential partners who see value in this approach.
We engage with diverse partners in different ways including partnerships to implement a programme, working in consortia, long-term strategic partnerships and working with individuals such as consultants and researchers.
Through partnerships we have done all of the following:
upscale a citizen monitoring model or take it to new contexts 

pilot innovative ideas for bottom-up accountability and citizen participation
support and stimulate government institutions to improve how they engage with citizens
capitalise on the findings in our data and use it to advocate for key policy changes
research how citizens can secure improvements in projects and services, and other effects of citizen monitoring
One of our values is collaboration, and it reflects our view that partnerships are essential to Integrity Action. 
We seek to alleviate the power imbalance that is often found in partnerships with organisations in the Global South, by working with partners to create mechanisms that allow them to hold Integrity Action to account on our commitments, as well as the reverse. We take the same approach to working with international, local or national partners.
Find a list of our partner organisations here and our donors here and read more about our current work here.
Can we work together?
Talk to us about exploring a potential partnership: partnerships@integrityaction.org
Are partnerships dependent on funding? 
Typically, yes. If you are interested in working with us to implement an initiative somewhere, then that would require funding. However, we are happy to fundraise in partnership when there is a strong concept, and we have done this successfully. 
When fundraising and implementing programmes, are you usually the "lead" partner? 
It can work either way, but increasingly we are not the lead. Integrity Action is a specialised organisation and it often makes more sense for an organisation that is directly implementing an approach to be the lead. But many factors can affect this and we are happy to discuss it with potential partners.
What is Integrity Action's "style" of partnership?
We seek to enter partnerships which are reciprocal: where both partners stand to learn and gain from the collaboration, and where both partners can demand accountability from each other.
Where can I read about current partners and projects?
Find a list of our partners here and our current work here.
Hang on - my question isn't in your FAQs! Can I ask it anyway? 
Yes! Please contact us, we'd love to hear from you.